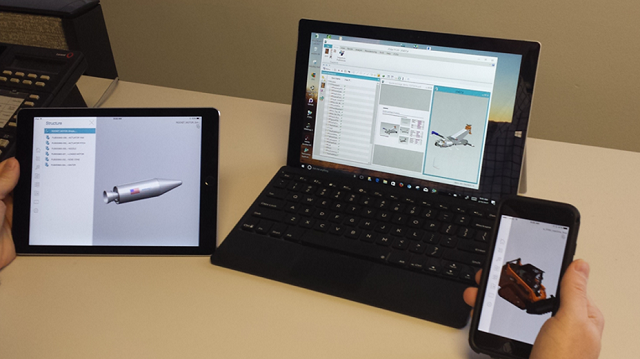 Siemens' openly available JT2Go viewer app now supports geometric models based on the Parasolid XT file format
Parasolid is a geometric modeling engine used by hundreds of software applications in product design, simulation and manufacture. As a result, millions of designers and engineers benefit from using the Parasolid XT file format to archive and share precise (B-rep) 3D geometric models. The Parasolid model viewer enables anyone to view and measure a Parasolid model at no cost, and with no requirement for a third-party application.
Siemens has delivered this solution by enhancing its existing free viewer, JT2Go, which has already been downloaded by hundreds of thousands of users to explore 3D models in Siemens' JT file format. JT is the most widely used format for lightweight (tessellated) 3D model visualization and collaboration. The latest release of the JT2Go viewer – version 13.3 – introduces support for direct interaction with the Parasolid XT file format.
Parasolid and the XT format
Parasolid and the XT format are ideal for modeling and sharing precise 3D geometric models for numerous reasons, including:
Quality and performance of the Parasolid geometric modeling kernel
Forward/backward compatibility of the XT format across versions of the Parasolid modeling kernel
Open availability of Parasolid and its published file format specification
These factors have resulted in millions of users benefitting from the Parasolid XT format. For instance, according to Romaric Bouny, Product Manager, Lumiscaphe:
"Through our integration of Parasolid…, Patchwork 3D can access 3D model data from the Parasolid universe, where millions of end-users create and edit complex models with Parasolid."
To learn why Parasolid is the leading geometric modeling technology, check out this post:
Webinar: Geometric modeling – Why Parasolid's in good shape